Public Administration Student Association (PASA)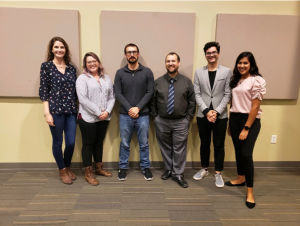 Meet this year's PASA officers
Vice-President – Clara Bernauer
Secretary – Chris Verbrugge
President – Bruce Reynolds
Treasurer – Jake Letner
Student Coordinator –  Mayra Ore
Follow PASA on Facebook:
Become a follower of PASA on Facebook. Facebook members can also search for "UMKC PASA". Click on the "like" tab to become a follower.
PASA invites you to join them at any (or all) of their bi-monthly meetings, held on Wednesdays from 6:00-6:30 PM, in the Bloch School's 3rd floor Cookingham Conference Room. PASA is also actively looking for officers to join the organization for the 2020-2021 school year.
To join PASA or assist in any of their events, please contact President Bruce Reynolds at Bar7x9@mail.umkc.edu, or message the organization via RooGroups.