L.P. Cookingham Institute of Urban Affairs Research and Publications
The Cookingham Institute serves as a resource to the Kansas City region and beyond through shared research and resources. See below for a few published pieces.
The Cookingham Institute's Issue Briefs series provides concise, user-friendly policy analysis on issues facing the Kansas City region.
The Cookingham Institute's Action Briefs series provides information on promising practices gathered from around the nation for addressing issues important to the Kansas City region.
Nationwide, more than 1.3 million students from pre-K through grade 12 were identified as homeless during the 2015-2016 school year, according to U.S. Department of Education data compiled by the National Center for Homeless Education (NCHE 2017). That figure is more than double the total reported for 2006-2007 (Ingram et al. 2016, 10).
School districts in the Kansas City region have reported an increase in the homeless student population consistent with this national trend. According to the Missouri Department of Elementary and Secondary Education and the Kansas Department of Education, 7,624 out of 314,597 public school students enrolled in kindergarten through grade 12 were classified as homeless in the nine-county Kansas City region during the 2015-2016 school year.
This report provides an overview of McKinney-Vento responsibilities and requirements, presents the views of local McKinney-Vento liaisons who serve the majority of the Kansas City region's homeless students, and examines current research on student homelessness.
The Cookingham Institute prepared this report to achieve two key objectives: (1) to determine the barriers and needs that McKinney-Vento liaisons in the greater Kansas City region encounter as they carry out services in support of homeless students in public schools; and (2) to identify and recommend policies and practices that aid McKinney-Vento liaisons in student homelessness intervention. We also hope this report will increase awareness about student homelessness and enhance strategic efforts that are already underway to end child and youth homelessness.
Read or download the report now.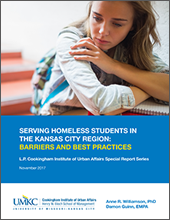 Impact KCK is an innovative community program responsible for reducing homelessness in the Kansas City Kansas Public Schools by more than 50% in less than three years. The program has received regional and national recognition and is based on the collective impact model for community change.
The L. P. Cookingham Institute of Urban Affairs conducted an assessment of the Impact KCK program for the purpose of highlighting the factors contributing to its success. In addition, the Cookingham Institute prepared an Impact KCK Toolkit to help communities replicate this program. Project funding provided by the William T. Kemper Foundation is gratefully acknowledged.
Impact KCK Assessment: Reducing Student Homelessness through Collective Impact