L.P. Cookingham Institute of Urban Affairs Director's Welcome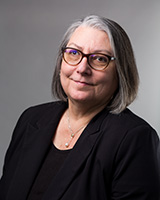 Anne R. Williamson, PhD
Director and Victor and Caroline
Schutte/Missouri
Professor of Urban Affairs
Welcome to the L.P. Cookingham Institute of Urban Affairs. We are part of the Henry W. Bloch School of Management's Department of Public Affairs at the University of Missouri-Kansas City.
The Institute is named for long-time Kansas City, Missouri, city manager L.P. Cookingham. Widely recognized as a leader in the city management profession, the late Mr. Cookingham's commitment to public service inspires us in all we do.
We focus on research and community engagement in the areas of urban policy and management. We also support the Bloch School and UMKC in fulfilling our institution's commitment to higher education by offering graduate research assistantships and other learning opportunities for students in our Master of Public Administration (MPA) program.
Our community engagement activities include providing analytical support for efforts to increase the supply of affordable housing in the bi-state Kansas City region, end homelessness among children, youth, and families, and technical assistance in obtaining diverse citizen participation for the purpose of addressing fair housing issues. We welcome opportunities to work side-by-side with government, nonprofit, and private sector organizations to improve life in this place we call home.
Thank you for your interest in the Cookingham Institute. We hope you will come back and visit often.