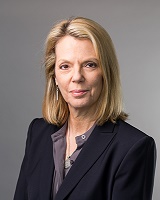 Sidne Ward, Ph.D.
Associate Dean
Associate Professor, Management Information Systems
Director, Bloch Global Management Education Initiatives
318 Bloch Heritage Hall
Areas of expertise:
 Personal technology choice, e-learning, information privacy
Sidne Ward Associate Dean at the Henry W. Bloch School of Management, is responsible for supporting implementation of the strategic plan and the school's accreditation processes. This support includes developing and implementing processes related to research support and faculty evaluation, oversight for academic policies and student matters, promoting co-curricular engagement, and efforts to enhance the physical infrastructure of the school. As Director of Global Management Education Initiatives, Dr. Ward oversees academic international collaborative relationships and study abroad programs. She received a B.A. in Russian language and literature and an MBA from the University of Oklahoma. She holds a Ph.D. in management from the Anderson School at the University of California, Los Angeles.
Dr. Ward is currently on the board of the Edgar Snow Memorial Foundation, where she serves as Vice President and on the Executive Committee, and also serves as a board member for the International Relations Council, a member of the World Affairs Councils of America. She was a 2009 Fulbright Senior Scholar and Visiting Professor in 2010, 2012, and 2013 to the Kathmandu University School of Management in Nepal.
Dr. Ward's research interests include information privacy, browser and other information system user interfaces, cognitive biases, decision-making and decision support systems, online auctions and electronic commerce and information systems issues. Her research has appeared in Communications of the Association for Information Systems, International Journal of Electronic Commerce, The Journal of Computer Information Systems, Management Science and others.