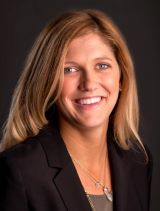 Nikita (Niki) Waldron, Master of Accountancy, CPA
Assistant Teaching Professor
325 Bloch Heritage Hall
Areas of expertise:
 Managerial accounting, financial accounting
Nikita "Niki" Waldron is an Assistant Teaching Professor of Accounting at the Henry W. Bloch School of Management. She has bachelor's and Master of Accountancy degrees from the University of Kansas. She is a Certified Public Accountant in Kansas.
Waldron has formerly taught financial, managerial and taxation courses as an accounting instructor at the University of Kansas. She has extensive experience in both public accounting at a global professional services firm and corporate accounting.