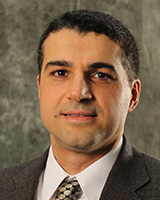 Roozmehr Safi, Ph.D.
Assistant Professor of Management Information Systems
Department of Management
315 Bloch Heritage Hall
Areas of expertise:
 Information Security and Privacy, Business Analytics, Business Decision Making, Neuro Information Systems (Neuro-IS)
Roozmehr Safi is an Assistant Professor of Management Information Systems at the University of Missouri-Kansas City's Henry W. Bloch School of Management. He earned his Ph.D. in Information Systems with a minor in Business Statistics from Texas Tech University in 2016. He also earned his MBA from Sharif University of Technology, after earning a bachelor's degree in Computer Science. In addition, he has nearly 10 years of IT industry work experience.
Safi's current research interests are Information Security and Big Data Analytics. In his research he uses experimental economics and psychology methods, business analytics approaches (e.g., data mining and text mining), and neuro-techniques (fMRI brain imaging). Safi's research has appeared or is forthcoming in scholarly journals such as MIS Quarterly, the European Journal of Information Systems, and Information & Management, among others.
In his academic career, Safi has taught courses in Business Analytics (BA), Business Intelligence (BI), Database Management Systems, Management Information Systems, and Operations Management.
Safi has served as a reviewer for journals and conferences including MIS Quarterly, the European journal of Information Systems, the Communications of the Association for Information Systems, the International Conference on Information Systems, and the Americas Conference on Information Systems.