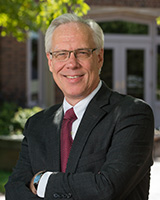 David Renz, Ph.D.
Professor Emeritus of Nonprofit Leadership and
Director Emeritus, Midwest Center for Nonprofit Leadership
4747 Troost Building Suite 207
David Renz is Professor Emeritus of Nonprofit Leadership and Director Emeritus of the Midwest Center for Nonprofit Leadership, the public service leadership research and development center of the Department of Public Affairs in the Bloch School of Management at the University of Missouri –Kansas City (UMKC). The center, a key contributor to UMKC's community engagement mission, serves approximately 3,500 leaders of nonprofit and other public service organizations each year.
An award-winning educator and scholar, David teaches and conducts research on nonprofit and public service leadership, especially nonprofit governance and board effectiveness. His current research focuses on governance and management in networks and socially-entrepreneurial organizations. Recently, David was honored with a Special Lifetime Achievement Award from the Kansas City nonprofit association, Nonprofit Connect; in 2017 he was recognized with the "Distinguished Achievement in Leadership and Nonprofit and Voluntary Action Research Award" from the international scholar association, the Association for Research on Nonprofit Organizations and Voluntary Action (ARNOVA).
David serves public service organizations in many capacities, including consulting and service on councils, task forces, and governing boards. David has worked with more than 160 boards, commissions, and networks in the past two decades. Among other initiatives, he helped found the Nonprofit Academic Centers Council (a network of university-based nonprofit centers) and the Forum of Regional Associations of Grantmakers.
David writes frequently for both the academic and practice communities and, with his colleagues and coauthors, has produced more than 155 chapters, reports, and articles for journals such as Nonprofit Management and Leadership, The Nonprofit Quarterly, Strategic Governance, Public Administration Review, and Nonprofit and Voluntary Sector Quarterly. He also is editor of the fourth edition of The Jossey-Bass Handbook of Nonprofit Leadership and Management and co-editor of The Research Handbook on Entrepreneurs' Engagement in Philanthropy. David earned his Ph.D. in Organization Studies from the University of Minnesota.