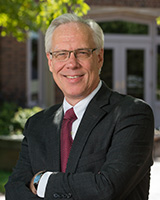 David Renz, Ph.D.
Professor Emeritus of Nonprofit Leadership and
Director, Midwest Center for Nonprofit Leadership
310B Bloch Heritage Hall
Areas of expertise:
 Nonprofit governance, organization, and accountability, social entrepreneurship, nonprofit sector in Kansas City, public service leadership and management of governmental agencies
David Renz is Professor Emeritus of Nonprofit Leadership and the Director of the Midwest Center for Nonprofit Leadership, an education, research and outreach center of the Department of Public Affairs in the Henry W. Bloch School of Management at the University of Missouri-Kansas City. During his career, Renz also has served as a senior government executive, including five years as Executive Director of the Metropolitan Council of the Twin Cities and six years as assistant commissioner for the Minnesota Department of Labor and Industry. Renz received his Ph.D. in organization theory and administration and a Master of Arts in industrial relations, both from the University of Minnesota.
Renz's research focuses on the leadership and management of nonprofit and public service organizations, with emphasis on governance and management in networks and socially-entrepreneurial organizations, the leadership of organizational innovation and transformational change and organizational effectiveness, and social entrepreneurship. He also conducts research on the development and institutionalization of university-based nonprofit academic centers.
Renz is a nationally-recognized leader and award-winning educator. Recently, he was recognized with a Special Lifetime Achievement Award from the Kansas City nonprofit association, Nonprofit Connect; and in 2017 he was recognized with the "Distinguished Achievement in Leadership and Nonprofit and Voluntary Action Research Award" from the international scholarly association, the Association for Research on Nonprofit Organizations and Voluntary Action (ARNOVA). He also has provided leadership for several national nonprofit capacity-building initiatives, including the founding of the Nonprofit Academic Centers Council and the Forum of Regional Associations of Grantmakers.
Renz has written and co-authored more than 150 articles, reports and chapters for scholarly and practice-oriented publications, and he has led the design of several path-breaking national conferences on nonprofit governance and effectiveness. His publications have appeared in Nonprofit Management and Leadership, Public Administration Review, The Nonprofit Quarterly, Strategic Governance, Public Productivity and Management Review, The American Review of Public Administration and Nonprofit and Voluntary Sector Quarterly, and he is the editor of the fourth edition of the Jossey-Bass Handbook of Nonprofit Leadership and Management.