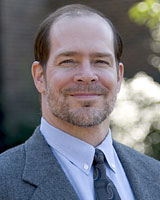 Mark Parry, Ph.D.
Ewing M. Kauffman/Missouri Endowed Chair in Entrepreneurial Leadership
Professor of Marketing
329E Bloch Executive Hall
Areas of expertise:
 New product development, launching new products, entrepreneurial marketing, models of distribution, marketing strategy
Mark Parry is the Ewing M. Kauffman/Missouri Endowed Chair in Entrepreneurial Leadership and Professor of Marketing at the Henry W. Bloch School of Management at the University of Missouri-Kansas City. He is a senior leader in the Institute for Innovation and Entrepreneurship at UMKC's Bloch School. Parry teaches graduate and executive education courses. He received an M.A. from the University of Texas at Arlington in 1984 and a Ph.D. in Management Science from the University of Texas at Dallas in 1988.
Parry conducts research and teaches courses on innovation, new product launch strategies, marketing strategy and entrepreneurship. As a professor of business administration at the Darden Graduate School of Business at the University of Virginia, Parry has designed a number of executive programs and executive program modules dealing with marketing strategy, brand strategy, pricing and the launching of new products. His teaching/consulting assignments have included work for AAA South, Allied Signal, Carrier Corporation, Coca-Cola, Cerveceria Cuauhtemoc Moctezuma, Graphics Controls, GTech, IBM, Ingersoll-Rand, Lexis Law Publishing, The Mars Corporation, Milliken & Company, Ortho Biotech and the Swedish Institute of Management.
Parry is the author of more than 30 articles in Management Science, Academy of Management Journal, Journal of Marketing Research, Marketing Science, Journal of Marketing, the Journal of the Academy of Marketing Science, Journal of Retailing, Journal of Operations Management, Journal of Product Innovation Management, Market Letters, IEEE Transactions on Engineering Management and others. He is also the author of three books: Cases in Marketing Strategy (with Yoshinobu Sato), Strategic Marketing Management: A Means-End Approach and Mathematical Models of Distribution Channels (with Charles A. Ingene). His research has won several awards, including the 2005 Excellence in Global Marketing Research Award from the American Marketing Association with Michael Song, Ph.D.