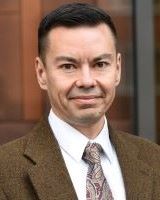 Charles Y. Murnieks
Associate Professor
A. Gottlieb Chair of Strategic Management, Department of Entrepreneurship and Management
321 Bloch Executive Hall
Email
816-235-2794
816-235-2794
Charles Y. Murnieks is an Associate Professor and the A. Gottlieb Chair of Strategic Management in the Department of Entrepreneurship and Management at the Bloch School of Management at the University of Missouri, Kansas City. Before joining UMKC, he held faculty positions at Oregon State University and the U.S. Air Force Academy. Before beginning his academic career, Dr. Murnieks served 20 years as an officer in the U.S. Air Force. He is an award-winning teacher and scholar.
In his research, Dr. Murnieks investigates passion, cognition, motivation, and investing in new ventures. His research has been published in various journals such as the Journal of Management, Journal of Business Venturing, Journal of Organizational Behavior, Entrepreneurship Theory and Practice, and Journal of Management Studies. Dr. Murnieks also recently co-authored a book titled "The Profits and Perils of Passion in Entrepreneurship."
He currently serves on the editorial board for two entrepreneurship journals, and is an associate editor at the Journal of Business Venturing. He teaches courses in strategy and entrepreneurship.
Dr. Murnieks earned his doctorate at the University of Colorado, and holds an MBA from UCLA and a B.S. in civil engineering from the Air Force Academy.