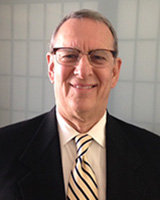 Phillip Gonsher
Associate Teaching Professor of Entrepreneurship and Marketing
329B Bloch Heritage Hall
Areas of expertise:
 Entrepreneurial Marketing and Design Thinking through Creativity and Innovation
Phillip Gonsher is an Associate Teaching Professor of Entrepreneurship and Marketing and Marketing at the University of Missouri-Kansas City's Henry W. Bloch School of Management. He holds the position of Assistant Director of Mentor programs in the Regnier Institute for Entrepreneurship. Phillip is also responsible as Curriculum Coordinator for the Entrepreneurship department. He earned a M.A. in Business from Webster University, M.A. in Marketing from Webster University, M.L.A. from Baker University and a B.A. from Ottawa University. Gonsher's work experience prior to UMKC includes teaching at Avila University and Johnson County Community College. He also had managerial positions in Marketing at EMBARQ and Sprint for many years.
Gonsher has attended many professional and academic conferences to increase his knowledge of the field and effectiveness as a teacher. In May of 2015 he presented at the Midwest Symposium on Social Entrepreneurship about "The Rules of Marketing: Concepts and Applications to the New Social Venture." He also has a Certificate of Achievement to teach Social Entrepreneurship issued by USASB.
Gonsher is also a volunteer in our community providing pro bono small business consulting.