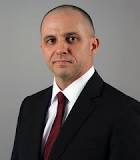 Christopher Garmon
Assistant Professor of Health Administration
Bloch Heritage Hall 305B
Areas of expertise:
 economic analysis of health care provider markets, economics and public policy
Christopher Garmon is an Assistant Professor of Health Administration at the Henry W. Bloch School of Management at the University of Missouri – Kansas City. He received his Ph.D. in Economics from the University of Florida.
Prior to joining UMKC, he served as a staff economist at the Federal Trade Commission. At the FTC, he led the economic analysis for numerous antitrust investigations, across a range of industries. He has particular expertise in the economic analysis of health care provider markets through his research and work on many hospital, physician, and pharmaceutical antitrust investigations. He was also the FTC's primary staff-level economic liaison to other agencies and organizations on issues of health care provider competition. He has taught courses in economics and public policy at Kenyon College and Johns Hopkins University.
He has published articles in many peer-reviewed economics and health policy journals including Health Affairs, RAND Journal of Economics, Review of Industrial Organization, Journal of Sports Economics, and the Southern Economic Journal. Throughout his career, he has received numerous awards for his research, teaching, and casework.