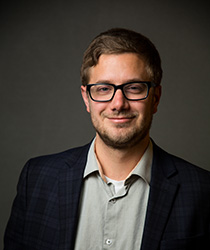 Bryan C. Boots
Assistant Teaching Professor, Henry W. Bloch School of Management
Managing Director for Venture Creation, Regnier Institute for Entrepreneurship and Innovation
316 Bloch Executive Hall
Areas of expertise: Entrepreneurship, New Product Development
Bryan Boots is Managing Director for Venture Creation with the Regnier Institute and Assistant Teaching Professor with the Bloch School of Management.
In his responsibilities with the Regnier Institute, Bryan leads the RIEI's portfolio of programs aimed at helping rising entrepreneurs start new business ventures of all types. This portfolio includes the E-Scholars program, UMKC's chapter of Entrepreneur Quest, pitch competitions, incubator space, mentorship opportunities, and more.
In his responsibilities with the Bloch School, Bryan teaches undergraduate and graduate entrepreneurship courses in areas including product development, technology entrepreneurship & management, and others.
Bryan studied engineering undergraduate at Kansas State University, engineering graduate level at Kansas State University and University of Arkansas, and earned his MBA from UMKC's Bloch School. He is currently pursuing his PhD in networks and network science. In addition to his role with UMKC, Bryan has worked for a number of technology and engineering companies ranging from startups to global corporations, and has been a founder or co-founder in several businesses.