EMBA Speaker Series Presents:
Drew Robinson with Evergy Ventures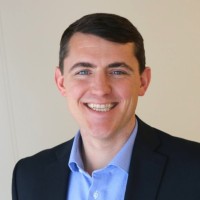 Drew Robinson will join us to provide insights into Evergy Ventures, the corporate venture capital arm of Evergy. In this session, Drew will discuss how they operate as a corporate venture capital arm and expand on the strategic value a group like theirs brings to both Evergy and the entrepreneurial community.
FRIDAY, OCTOBER 8, 2021
8:00 – 9:00 A.M. (CDT)
ZOOM VIRTUAL EVENT
Please Note: Registration is free but limited to Executive MBA Alumni and current students, EMPA alumni, FTMBA alumni, faculty, corporate and community partners.
Register by October 7th
About the speaker
Drew Robinson is the Strategic Business Partner for Evergy Ventures. He focuses on strengthening alignment between Evergy Ventures and the Evergy business units through the identification and execution of strategic initiatives. He has a broad utility background that includes more than 10 years of experience in generation engineering, regulatory affairs and renewable products. He has a BS in Mechanical Engineering from the University of Kansas and an MBA with a Finance concentration from Rockhurst University.'
Register for the Event: https://umsystem.zoom.us/meeting/register/tJUrf-qprD8sGtANjgvagv_YU7EpYcsWeJ24
Access info will be sent via email after registering through Zoom.
Contact Information
April Graham
816-235-1396
grahamap@umkc.edu