Henry W. Bloch Executive Hall for Entrepreneurship and Innovation
Henry W. Bloch Executive Hall Images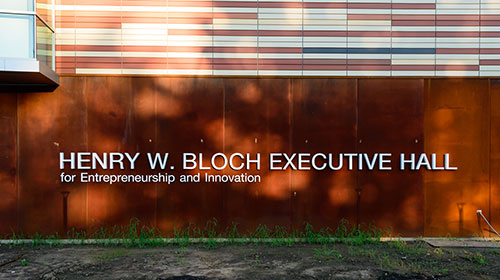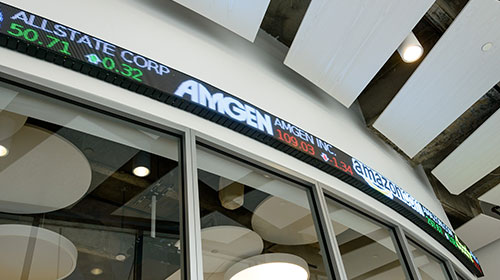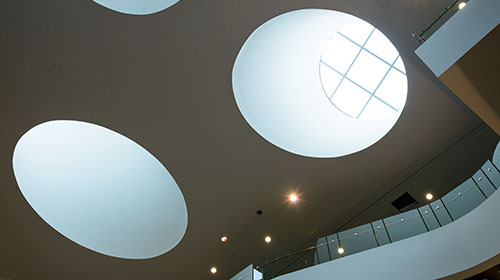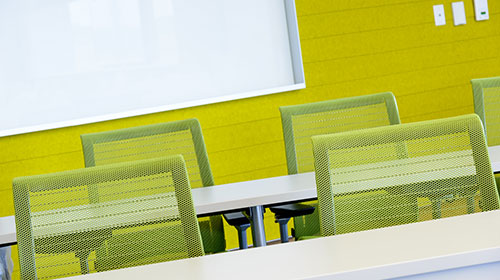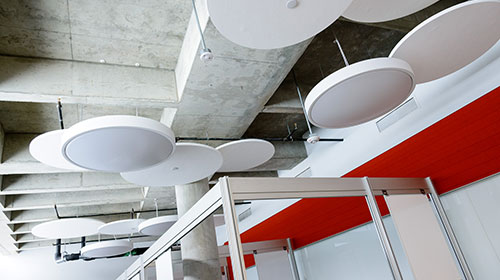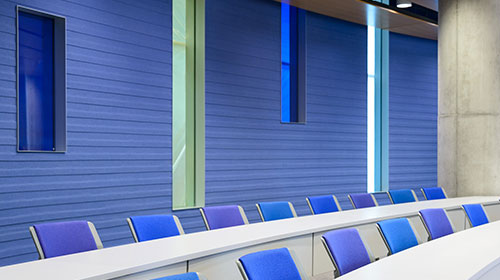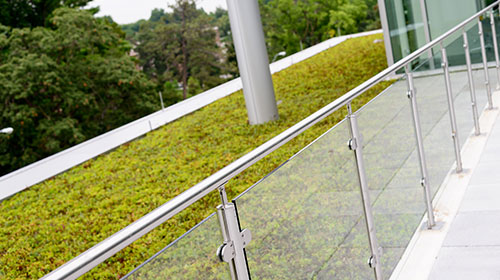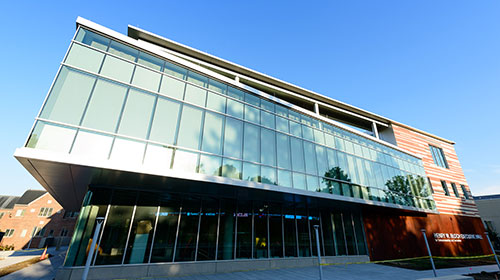 FAQ's
What was the motivation for building a new facility?
First and foremost, the building is a response to our growing space needs. Since 2007, we have increased our student body by 70% and our executive education programs have more than doubled. Excellence in rankings for programs in entrepreneurship, accounting and nonprofit management has garnered more attention and higher application. We have added executive degree programs (in addition to our MBA) including the Executive Master of Public Administration. Given our mission of developing our executive and graduate programs and escalating our highly ranked entrepreneurship programs to be among the best in the world, we needed a space that allowed those programs to grow.
The current business school building was designed for a pedagogical model focused more on lectures and case discussions. The new facility bridges the gap between traditional classroom teaching (still very much needed for some coursework) and the kind of experiential learning space and new instructional technology needed to nurture entrepreneurial and innovative thinkers for the 21st Century.
How many students does the new building hold?
The approximate classroom capacity for the entire building is 834 (not including indoor and outdoor amphitheater space)
There are three active learning classrooms (divided or undivided by electronically operated "walls"). These classrooms hold 64 each, or can be combined into two rooms or one big room that holds 194. Other spaces include:
218 = 200 – Auditorium
324 = 75 – Entrepreneurship Space
330 = 60 – Entrepreneurship Space
413 = 40 – Executive Education active learning and boardroom
414 = 75 – Executive Education tiered classroom
What is Experiential Learning?
The Bloch School is a forerunner in propagating experiential learning (learning by doing) for business students, hence the third floor dedication to the Innovation Lab, brainstorming, prototyping and simulation space, the behavior research lab and the finance lab with trading floor, as well as malleable, active learning classrooms.
"Learning by doing" is not a new idea, but its acceptance as a major part of business school curriculum is only recently beginning to grow. One of the school's goals is to expand and propagate experiential approaches to learning across all disciplines.
How will technology in the building enhance learning?
The new facility allows students to simultaneously participate in the discussion either by speaking or by communicating electronically, with words, pictures, spreadsheets, or other digital content. It allows many people to engage in the discussion simultaneously, to have small group and large group discussion simultaneously, and to share information rapidly and readily.
Technology also boosts hands-on learning and teaching in the Finance Lab, which will make a critical difference to teaching in multiple departments (finance, accounting, and management)
What is the Finance Lab?
The Finance Lab provides a hands-on teaching space, permitting students access to software and databases that were previously unavailable (like Morningstar, Telemet Orion and the Financial Trading System plus WRDS, Compustat and CRSP). It has 32 computer work stations plus the ability to feed real time market data as well as video/audio feeds from CNBC and Bloomberg News.
The lab showcases finance as a discipline within the Bloch School (with more than 350 students emphasizing finance studies). Kansas City is a center for financial services, and this helps position Bloch as a key component to transforming talent for the finance sectors.
The Finance Lab will allow faculty to teach with contemporary resource support including "live" data. They can experience real-time education surrounded by a market environment. Some courses will be taught by instructors who have professional experience in portfolio management or in financial institutions regulation.
What is the Behavioral Research Lab?
The Behavior Research Lab greatly increases Bloch's research capabilities in the areas of leadership and organizational behavior by allowing faculty and students alike to conduct applied research, experiments and studies that yield real-time insight into consumer behavior.
The Behavioral Research Laboratory is a space for collecting research data by allowing researchers to run experiments that help them better understand how people in organizations think, feel, and act. More than 1,000 MBA and undergraduate BBA and BSA students are expected to participate in studies conducted through the Behavioral Research Laboratory per year.
What is the Innovation Lab?
The innovation lab in the new building offers a one-stop-shop for experiential learning: creating ideas, innovating business models, experimenting with prototypes, mentoring, testing ideas, simulating the customer experience through the brainstorming, prototyping and simulation tools; creating and managing sustainable and scalable student ventures through the venture accelerator. These facilities are commonly found in design or engineering schools, but not in business and management schools.
Is this a green building?
The new Bloch Hall is on track to receive LEED Gold certification, the second highest certification possible. Some of the building's green features include:
Under-floor Air Distribution (displacement air) system
Improves thermal comfort because the supply air is delivered at a more comfortable temperature (64 degrees vs. 55 degrees when cooling is required) and at a lower velocity. It also allows natural stratification of the air so that conditioned air stays in the lower, occupied part of the room. Heat sources such as people and equipment generate thermal plumes that naturally rise above the conditioned air stratum to be exhausted through the return air ducts.
Thermal Mass from cast-in-place concrete structure and exposed interior wythe of precast concrete walls
Thermal mass helps to even out temperature fluctuations within the building by absorbing thermal energy when the mass is cooler than the heat being generated by occupants and equipment and by giving this thermal energy back into the space when the surrounding objects are cooler.
Continuous line of thermal insulation wrapping the building
This is designed to carefully eliminate thermal bridging and to place it in the correct arrangement within the wall. Thermal bridges are points in the building envelope that allow heat conduction to occur without being interrupted by thermal insulation. By avoiding thermal bridging, the building envelope will perform better and problems that can caused by condensation are avoided.
"Cool" Roof
The building uses a white TPO roof (with some areas of the Level 4 roof covered with vegetation) which reflects sunlight and absorbs less heat than traditional dark-colored roofs. This results in reduced building heat-gain, energy savings during times of the year that require air conditioning, and extended service life of the roof.
Skylights and ample glazing to provide daylight to the building along with daylight sensors and controls to limit the need for lights during daylight hours.
Reduction in materials used by allowing interior face of exterior precast walls to remain exposed, allowing concrete finish of access floor system to remain exposed in many locations, and using the access floor to hide many building services to allow the structure above to remain exposed in many locations in lieu of continuous ceilings.
Use of recycled materials in as many products as possible such as recycled glass countertops which are fabricated from recycled glass collected locally by Ripple Glass.
Limestone reclaimed from site retaining walls repurposed for use as limestone seating benches around the exterior of the building.
Hybrid precast cladding system that incorporates terra cotta.
Why Did Henry Bloch Give $32 Million?
The building was made possible by a gift from Bloch School benefactor Henry Bloch, co-founder of H&R Block. Bloch felt this was the time to make the gift for such a space. He felt that between the recognition, rankings and awards the school has received, as well as the strong new vision and strategic plan established in 2010, now was the right time to create a facility that will propel the school forward as a model for other institutions around the world.
Bloch is a somewhat unusual benefactor in that he is deeply involved with the school and its students, and has been since endowing it in 1986. In 2010, the Bloch School commissioned a documentary chronicling the life, success and philanthropy of Henry Bloch, which will be used in Bloch classes as a case study. Part of the Bloch School's three-fold daily mission is to "inspire students to be more like Henry Bloch every day."
In the summer of 2012, Henry Bloch unveiled the Bloch Family Foundations, identifying three Kansas City "legacy" organizations slated to receive additional funds in order to sustain their growth and success – the Bloch School is among those three.
Awards
2013 Citation Award – Architecture, AIA Kansas City
2013 Citation Award, Commercial Architecture, AIA Central States Region
2013 Mid-America Regional Award, Design-Build Institute of America
2013 Honorable Mention for Higher Education/Universities, PCI Design Awards
2013 Excellence in Concrete Award – High Rise, Concrete Promotional Group
2013 Southtown Beautification Award
Two Buildings, One School: In Fall 2013, The University of Missouri-Kansas City and the Henry W. Bloch School of Management welcomed students to the new Henry W. Bloch Executive Hall for Entrepreneurship and Innovation, which stand adjacent to the historic Bloch School Building. Now students have two beautiful, innovative spaces in which to study, dream, create and succeed. The Bloch Campus is open for business!
The historic Bloch building will continue to house the Student Services Offices, computer lab, faculty offices and classes from undergraduate through executive level. The Bloch Executive Hall houses Bloch Executive Education and the Regnier Institute for Entrepreneurship and Innovation, as well as undergraduate through executive classes, with a focus on graduate and executive.
The new Bloch Executive Hall was made possible by a $32 million gift from Bloch School benefactor Henry W. Bloch. The design and construction were expedited so that Mr. Bloch could enjoy seeing the new facility open its doors to Bloch students.
From the vision of Bloch School Dean Teng-kee Tan, the building was brought to life by co-architects BNIM and Moore Ruble Yudell and JE Dunn Construction. Inspired by travel to, and observations of, some of the world's most innovative workspaces, the university's leadership and architectural team's goal is to create state-of-the-art space architecture. The design of the building itself aligns with innovative teaching techniques that will further elevate the Bloch School as a world leader in educating and training future generations of leaders in entrepreneurship, innovation and business management.
Unlike any other management school facility in the world, the new Bloch building will feature:
Design-led innovation lab for brainstorming, simulation, concept design and ideation and prototyping
Flexible experiential learning classrooms for participative learning
Center atrium and amphitheater
Behavioral Research Laboratory for academic and funded research projects
200-seat auditorium
Finance lab and classroom where students can experience real-time financial market conditions