Stock Pitch Competition
The UMKC Henry W. Bloch School of Management in partnership with the UMKC Investment Club will host the 2018 Stock Pitch Competition. Undergraduate students from select regional institutions are invited to participate in this competition where they will analyze and provide recommendations on stock opportunities for a publicly traded firm of their choosing. Winning teams will be eligible for cash prizes.
Contact Us:
Each team of 3-5 members will pitch an equity position, long or short. Pitches are evaluated based on the quality of idea, analysis, and presentation. Pitches are to be limited to 10 minutes or less.
FIRST ROUND: In the first round, teams will present in front of a panel of investors, who will evaluate each pitch on its idea, analysis, and presentation. The top teams from the first round will advance to the final round for a chance to present in front of the entire conference.
FINAL ROUND: Teams who are selected to advance to the final round will pitch their ideas in front of a panel of investment professionals and the entire conference audience.
RULES: Stocks are to come from the universe of companies with a market capitalization above $500 million and share prices above $2 as of the close of regular trading on October 25, 2018. Selections must be a stock (common or preferred), including ADRs and GDRs. ETFs, ETNs, Closed-End Funds, and other exchange-traded securities, including derivatives (options/futures) and currencies, will not be eligible for the competition. We are interested in participants' abilities to select and evaluate companies, not their ability to evaluate sectors, trends, or managers. Additionally, equities must have a three month average daily volume of at least 100,000 shares (as of the close on October 25, 2018) and must trade on a major exchange (NASDAQ, NYSE, or NYSE AMEX. No OTCBB or PinkSheets). The opportunity will be evaluated as a long or short position with a three to twelve month investment horizon.
ATTIRE: Business Professional
JUDGING RUBRIC FOR THE COMPETITION:
Financial Analysis: 25%
Valuation: 25%
Presentation: 20%
Question and Answer: 15%
Originality of Idea: 5%
Team Involvement: 5%
Materials: 5%
PRIZES:
1ST place will be awarded $1000
2nd place will be award $750
3rd place will be awarded $250
Dave Cummings
Chairman & CEO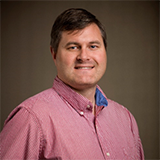 Dave Cummings is the owner of Tradebot Systems and Tradebot Ventures. Tradebot uses computer algorithms to provide liquidity to the stock market. Dave started Tradebot in 1999 out of a spare bedroom with a $10,000 investment. Some days Tradebot accounts for up to 5% of the total U.S. stock market volume. In 2008, Dave started Tradebot Ventures to help Kansas City build the next generation of high-growth technology companies. Dave is the founder and former CEO of BATS Trading. BATS grew to become one of the three largest stock markets in America, providing competition to NASDAQ and NYSE. In February of 2017, BATS was acquired by CBOE Holdings, Inc. for approximately $3.4 billion.
Dave holds a degree in Computer & Electrical Engineering from Purdue University. He is a life-long member of Platte Woods Methodist church. He lives in Parkville, Missouri with his wife and two kids.
Thad Davis
Managing Director, Head of Healthcare, North America at HSBC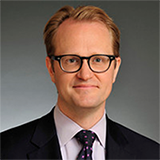 Thad Davis is the managing director, head of healthcare, North America for HSBC. Davis was previously at Jefferies, where since 2009 he was managing director of leveraged finance for the bank's healthcare group. Prior to Jefferies, he was at UBS Investment Bank, where he worked across investment banking, financial sponsors and leveraged finance.
Thad holds a Bachelor's of Science in Management from Purdue University and an MBA from the University of Chicago Booth School of Business.
All competition activities will take place in the Henry W. Bloch School of Management, Executive Hall located at:
5108 Cherry Street
Kansas City, Missouri 64110
Registration Deadline: October 17, 2018
Ticketing Prices:
Stock Pitch Team – $75
UMKC Student – $20
Non-UMKC Student – $25
Registration:
Requirements to Participate:
Each team will consist of 3-5 students
The competition is open to any undergraduate student from any college or university