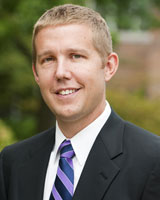 Leigh Salzsieder, Ph.D., CPA, ABV
Department Chair for Accountancy
Associate Professor of Accountancy
316 Bloch Heritage Hall
Areas of expertise:
 Fair Value Measurement, Valuation, Capital Investment
Dr. Leigh Salzsieder is an associate professor of accountancy at the University of Missouri-Kansas City Henry W. Bloch School of Management. He has a Ph.D. from the University of South Carolina, an MBA from the University of Kansas and a B.A. from Drury University.
His research and consulting interests include judgment and decision making in accounting, preparing and using fair value measurements, valuation, capital investment, and earnings management. His research was awarded the 2015 Greatest Impact on Management Accounting Practice Award from the American Institute of CPAs (CIMA) and Chartered Global Management Accountants, as well as the 2017 Lybrand gold medal from the Institute of Management Accountants (IMA) and can be found in journals ranging from the Journal of Accounting and Economics to The CPA Journal.
Salzsieder teaches various courses at the undergraduate and graduate level. He has received numerous teaching awards including the UMKC Chancellor's Early Career Award for Excellence in Teaching, Outstanding Educator of the Year Award from the Missouri Society of Certified Public Accountants, the Robert L. Virgil Excellence in Teaching Award, the Bloch Favorite Faculty Member of the Year Award and the UMKC Alumni Elmer F. Pierson Outstanding Teaching Award.
Salzsieder is a Certified Public Accountant in the State of Missouri as well as holding the Accredited in Business Valuation credential.
Selected Publications
"Debt, Equity, and Capital Investment" 2013, Journal of Accounting and Economics 56 (2), 291-310. with S. Jackson and T. Keune
Recipient of the 2015 AAA Management Accounting Section Impact on Management Accounting Practice Award.
"Cybersecurity: Common Risks and Common Sense Mitigation Techniques" 2017, Strategic Finance. 99 (5), 54-61 with T. Schaefer, B. Brown, F. Graessle
Recipient of the 2017 Lybrand Gold Medal Award.
"Diversification Bias and the Law of One Price: An Experiment on Index Mutual Funds" 2017, Journal of Behavioral Finance. 18 (1), 45-53. with N. Mauck.
"The Timing of Asset Purchases to Achieve Earnings Thresholds" 2016, Journal of Management Accounting Research 28 (1), 81-106. with T. Canace.
"Fair Value Opinion Shopping" 2016, Behavioral Research in Accounting 28 (1), 57-66.