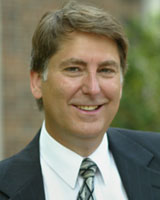 Stephen Pruitt, Ph.D.
Arvin Gottlieb/Missouri Endowed Chair of Business Economics and Finance
331 Bloch Heritage Hall
Areas of expertise:
 Valuation of corporate sponsorship activities, corporate governance, investment strategies, intersection of government and business
Stephen W. Pruitt holds the Arvin Gottlieb/Missouri Endowed Chair of Business Economics and Finance and is a professor of finance at the Henry W. Bloch School of Management. He received his undergraduate degree in marketing management from Purdue University, an MBA in finance from The Ohio State University and his Ph.D. in business administration (finance) from Florida State University. Prior to his appointment to the Gottlieb Chair, Pruitt held faculty positions at the University of Mississippi, Indiana University and The University of Memphis.
Pruitt's current research interests focus upon the intersection of marketing and finance and, specifically, upon the impact of major marketing sponsorship programs on corporate valuation. The author of more than 45 scholarly articles, Pruitt's research has investigated the efficacy of investment trading strategies, international finance, corporate financial management and the impact of media biases on the formation of economic expectations. His work has been widely cited in both the scientific and popular presses. Print news stories on his research have appeared in the Wall Street Journal, USA Today, The Detroit Free Press, The Indianapolis Star, Business 2.0 magazine and on the Yahoo! Finance website, among many others. Broadcast coverage includes stories on CNN, NBC, CNBC, MSNBC and NPR.
Pruitt's research articles have appeared in scholarly journals, such as the Journal of Finance; the Journal of Political Economy; Financial Management; the Journal of Financial Research; for which he served as an associate editor for three years; the Journal of Advertising Research; the Journal of the Academy of Marketing Science; the Journal of Public Policy and Marketing; the Journal of Portfolio Management; Economics Letters; The Financial Review and many others. Pruitt is listed in "Who's Who in Finance and Industry," "Who's Who in America" and "Who's Who in the World." He has served as a financial consultant for several major companies and nonprofit organizations.