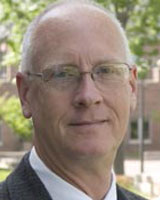 Steve Mitchell, MBA
Business Statistics and Management Science Instructor
408 Bloch Heritage Hall
Areas of expertise:
 Process control, manufacturer problem solving
Steve Mitchell is a decision sciences instructor at the Henry W. Bloch School of Management at the University of Missouri-Kansas City. He possesses 25 years' experience in corporate leadership. Mitchell received a bachelor's degree from the University of Kansas and an MBA from Owen Graduate School of Management at Vanderbilt University in Nashville, Tenn.
Mitchell's manufacturing leadership background includes experience with start-up, turn-around and multi-plant operations. His ability to teach and implement both theoretical and practical knowledge of Japanese business planning, process control and problem-solving techniques have yielded record setting results in numerous manufacturing facilities. Mitchell has held the titles of plant manager, director of Ohio manufacturing operations, as well as director of program management for a multi-billion dollar company dealing directly with General Motors, Ford and Chrysler.
Mitchell is in the process of authoring several Internet publications, including Up and Running – The Ultimate Guide to Quantitative Preventive Maintenance and Follow The Leader – Japan's Secrets to Manufacturing Success Revealed.
Organizations that Mitchell has directed have won the Department of Energy Partner of the Year Award as well as the Ohio Award of Excellent in Manufacturing. He was instrumental in founding GMTI University through the development of curriculum, identification of appropriate texts and mentorship of instructors to train process engineers for the aluminum die casting industry. Mitchell chaired the Kentucky Advanced Technology Center's task team in evaluating the existing curriculum, ensuring it met the needs of local industry. Significant positive changes were recommended and implemented and well received. Mitchell also founded Project H.O.P.E. in Twinsburg, Ohio, where manufacturing facilities partnered with Summit County Children Services to purchase, deliver and set up hundreds of beds for less fortunate children. Seven years later the program has expanded to clothing, food and monetary donations through payroll deduction.