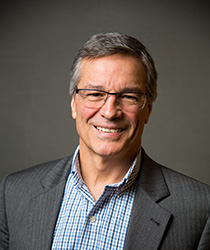 Anthony M. Mendes
Managing Director, Regnier Institute for Entrepreneurship and Innovation
329 Executive Hall

Dr. Tony Mendes Managing Director of the Regnier Institute for Entrepreneurship and Innovation at the University of Missouri – Kansas City, is an acclaimed entrepreneurial educator and administrator of nationally and internationally recognized programs. In his role with the Regnier Institute, Dr. Mendes is responsible for the integration of entrepreneurship in all of the academic units of the university. He also leads university efforts to support entrepreneurial ventures in the Kansas City area. He formerly served as Director of the Murphy Center for Entrepreneurship at the University of North Texas and Executive Director of the Academy for Entrepreneurial Leadership (AEL) at the University of Illinois at Urbana-Champaign. During his tenure at Illinois, the university achieved national status for entrepreneurship education by the Princeton Review & Entrepreneur Magazine, Fortune Magazine and the National Consortium of Entrepreneurship Centers and was ranked among the top 25 entrepreneurship programs in the US.
Prior to the University of Illinois, Dr. Mendes was Director of College Initiatives at the Kauffman Foundation, Kansas City, Missouri There he managed a program grant portfolio with over 150 colleges and universities. Many of the collegiate programs that he initiated have received national prominence including; The Kauffman Campuses program, the National Consortium for Life Science Entrepreneurship, the National Consortium for Entrepreneurship in the Liberal Arts, the National Association of Community College Entrepreneurship and the Kauffman Faculty Scholars program.
Dr. Mendes is Former President of the Unites States Association for Small business and Entrepreneurship (USASBE) and currently serves on the Board of the International Council for Small Business (ICSB). He has consulted with numerous national and international universities in the pursuit of building highly effective entrepreneurship programs. Universities such as St. Edwards university, The South Dakota State University and Zayed University in the UAE.Dr. Mendes holds a Ph.D. in Psychology from the University of Missouri, Kansas City, and an MBA from Rockhurst University. Prior to joining the Kauffman Foundation, Dr. Mendes was founder and president of Mendes and Associates, a private consulting company, located in Kansas City, Missouri. He also spent 13 years with AT&T as manager of training and development. His teaching experience includes courses at; Rockhurst University, Kansas City, MO; Rutgers University, Piscataway, NJ; Polytechnic University, Brooklyn, NY and the University of Illinois, Urbana- Champaign, Illinois.