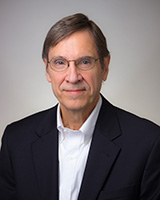 William R. Keeton, Ph.D.
Assistant Teaching Professor, Finance
232 Bloch Heritage Hall
Areas of expertise: Banking, financial markets and institutions, payments.
William R. Keeton is an assistant teaching professor of finance at the Henry W. Bloch School of Management at the University of Missouri-Kansas City. Keeton teaches undergraduate and graduate courses on financial markets and institutions and payments. He received his Ph.D. in economics from Massachusetts Institute of Technology, and his masters and undergraduate degrees in economics from Yale University.
Prior to joining the Bloch School in 2012, Keeton served as an assistant vice president and economist for the Federal Reserve Bank of Kansas City, where he provided policy advice to senior management and conducted research on banking, financial markets, and regional economics. While at the Kansas City Fed, Keeton wrote over two dozen research articles for the Bank's Economic Review. With a colleague at the Bank, he also developed the Kansas City Financial Stress Index, which continues to be published monthly. During his last two years at the Bank, Keeton headed the Bank's Payment Systems Research Group, accounting for his current interest in payments. Earlier in his career, he served in the Peace Corps in Colombia and taught undergraduate and graduate economics at Yale University.
Since joining the Bloch School, Keeton has published in the Journal of Money, Credit, and Banking and helped teams of undergraduates achieve top finishes in an annual banking competition sponsored by the Conference of State Bank Supervisors.