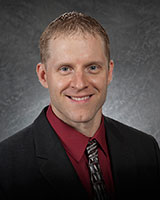 Jeff Johnson, Ph.D.
Associate Professor of Marketing
334B Bloch Heritage Hall
Areas of expertise:
 Personal selling and sales management, business-to-business marketing, marketing strategy, research methodology
Dr. Jeff Johnson
(Ph.D. University of Nebraska-Lincoln) is an associate professor of marketing at UMKC's Henry W. Bloch School of Management. Prior to academia, Dr. Johnson worked in inside sales, field sales, product management, and division management at Union Pacific Railroad in Omaha, NE and Los Angeles, CA.
Since joining UMKC in August of 2013, Dr. Johnson has published over 25 articles in the Journal of Marketing, Journal of the Academy of Marketing Science, MIT Sloan Management Review, Industrial Marketing Management, Journal of Business Research, Journal of Personal Selling & Sales Management, Journal of Product Innovation Management, and Journal of Service Research. Dr. Johnson's research has been presented at many national and international conferences. For his research performance, Dr. Johnson received UMKC's top award for research excellence by an assistant professor (UMKC Trustees' Faculty Scholar Award) in 2017.
Dr. Johnson also greatly enjoys teaching sales and marketing courses and has been recognized for his teaching by the Bloch school (Elmer F. Pierson Good Teaching Award 2016) and the university (Chancellor's Early Career Award for Excellence in Teaching 2016).