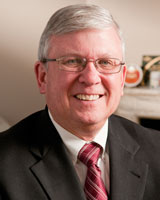 David Donnelly, Ph.D.
Professor, Department of Accountancy
225 Bloch Heritage Hall
Areas of expertise:
 Job stress, employee burnout, dysfunctional auditor behavior and turnover
David Donnelly is a professor of accounting at the Henry W. Bloch School of Management at the University of Missouri-Kansas City. He is a graduate of the University of Illinois (Ph.D.) and Kansas State University (B.S. and M.B.A). Donnelly is a past member of the board of directors of the Accounting Programs Leadership Group (APLG) and a current member of the board of directors of the Federation of Schools of Accountancy (FSA). He also serves on several other committees of the American Accounting Association, the APLG and the FSA.
Donnelly's research interests include behavioral judgment and decision-making as it relates to organizational performance, job satisfaction and stress. Most recently his research has examined how behavioral factors lead to dysfunctional audit behaviors and turnover.
Donnelly has received numerous research grants and teaching awards and has made numerous professional and educational presentations. He has publications in leading accounting, business and educational journals, including Behavioral Research in Accounting, Advances in Management Accounting, Journal of Forensic Accounting, Advances in Accounting Behavioral Research, CPA Journal, The Woman CPA, Journal of Organizational Behavior, Issues in Accounting Education, Journal of Accounting Education and others.