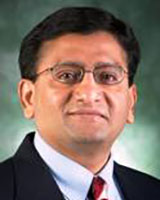 Kalpesh Kaushik Desai, Ph.D.
Department Chair for Marketing and Supply Chain Management
Professor of Marketing and Supply Chain Management
334D Bloch Heritage Hall
Dr. Kalpesh Desai
joined The Henry W. Bloch School of Management in 2014 as a professor of Marketing and Supply Chain Management. Desai earned his Ph.D. in Marketing from the University of Texas at Austin and his MBA from Jamnalal Bajaj Institute of Management Studies, Bombay University.
Prior to coming to the Bloch School, Desai was a professor at The State University of New York at Binghamton, where he won the Corning Awards of Excellence in Research in 2007-2008, 2011-2012, and the Faculty Excellence Award in Graduate Student (Ph.D.) Mentoring for 2013-2014. At SUNY-Binghamton, he also co-chaired 3 and chaired 5 doctoral dissertations, one of which recently co-won the 2012 Distinguished Dissertation Award in the Social Sciences Category, was an active member of the President's Creative Activities and Research road map team and helped the City of Binghamton with its efforts of branding the downtown Binghamton that culminated in a joint press conference with the Mayor.
Desai's theoretical research interests include construal level, self-regulation, time-money, spatial cognition, and categorization. His substantive research interests are in branding and retailing issues. His research has been published in several prestigious scholarly journals including Journal of Consumer Research, Journal of Marketing, Journal of Marketing Research, Journal of Consumer Psychology, Journal of the Academy of Marketing Science, and Journal of Retailing. His research has featured on NPR and his 2011 JCR paper on mode of payment received more than 80 media hits in from around the world including in US (e.g., New York Times, CBS News, ABC News, MSNBC, Time, US News and World Report, Wall Street Journal, Business Week, Forbes), Canada, UK, Germany, France, Belgium, Sweden, Romania, India, Indonesia, Australia, Middle East-North Africa, Mexico, Argentina, and in International Herald Tribune.
Additionally, Desai serves on the editorial boards of Journal of the Academy of Marketing Science and Psychology & Marketing and has 5-years of brand management experience.