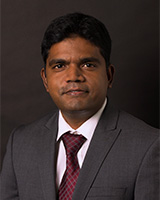 Ranjit Christopher, Ph.D.
Assistant Professor of Marketing, Department of Marketing and Supply Chain Management
334 Bloch Heritage Hall
Ranjit M. Christopher is an Assistant Professor of Marketing at UMKC's Henry W. Bloch School of Management. His research interests are broadly in pricing, valuation, and in the modeling of customer response to marketing interventions. His research papers have been published or accepted in the Journal of the Academy of Marketing Science and Information Systems Research. He teaches marketing research and analytics at both the graduate and undergraduate levels.
He has a Ph.D. in Business Administration (Quantitative Marketing Track) from Arizona State University and a Bachelor of Engineering degree in Computer Science from the University of Madras. His industry experience includes serving in a variety of technical and managerial roles in the IT and Engineering services industries.