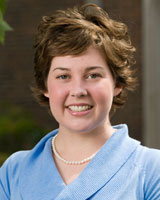 Erin Blocher
Assistant Teaching Professor, Business Communication
239 Bloch Heritage Hall
Erin Blocher is an Assistant Teaching Professor of Management at the Henry W. Bloch School of Management.
She received her M.A. in communication and rhetoric from the University of Kansas in 2007. She also holds a 2003 B.A. in political science, with a minor in history, from the University of Kansas.
Blocher's teaching emphasis has included courses in effective business communication and honors speaker-audience communication. She has overseen the development of a business communication curriculum at the Bloch School and has coordinated the opening of the Bloch Communication Center, an academic center focused on polishing students' professional written and verbal communication.
She also works with students and members of the Greater Kansas City business community to apply effective business communication theory and strategy to real-world communication issues.
Blocher has presented her scholarly research at several regional and national communication conferences, which focuses on rhetoric, public address and political communication.
Other work experiences in the Kansas City area have included serving as field director and professional campaign staff for a 2004 congressional campaign in Kansas's 3rd Congressional District and working as fundraising coordinator for the Agriculture Council of America and the National Agri-Marketing Association in Overland Park, Kan.